The Features of Parallels Virtuozzo Containers
Virtualization in the host operating system supports a lean, efficient virtualization layer that allows higher density ratios of virtual servers to physical servers. With Parallels Virtuozzo Containers you can increase the utilization of existing servers by 3x over hypervisor solutions, delivering cost savings in maintenance, energy costs and also reduces new server expenditures.
Built for delivering profitable cloud services
Advanced Resource Management provides the controls needed to support multiple VPS and Cloud server packages at different levels of CPU, memory, disk I/O and storage.
On-the-fly virtual environment elasticity enables flexibility for customers and easy upgrading for service providers.
Immediate provisioning and activation provides the fastest availability time for new VPS and Cloud server purchases, allowing customers to add new services instantly.
Comprehensive integration capabilities for third party systems are enabled with command line and API interfaces thus simplifying the complete automation of delivering and billing for services.
Performance and resource isolation enable service providers to guarantee SLAs and provide reliable and secure virtual servers.
Flexible management options reduce administration and support costs by making day to day operations simple, automating routine tasks and providing customers with self service options.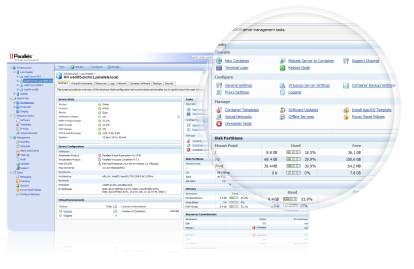 Maximize return on hardware investments
Operating system containerization lets you run more subscriptions on servers by creating secure, isolated virtual servers without the overhead and constraints of hardware virtualization.
Dynamic library sharing significantly reduces the amount of memory required by each virtual server and changing the way you provision subscriptions.
Virtuozzo File System reduces per-subscription disk space and memory requirements by allowing sharing of common applications and OS components while preserving the ability for individualized customization.  IOPS (I/O operations per second) are significantly improved because access to files shared in memory is only done one time, not per each container.
Cross CPU workload scheduling removes the binding of virtual environments to vCPUs to deliver flexible, high performance servers for customers.
Streamlining day to day operations

Operating system templates simplify the process of creating and maintaining "gold images"  used to instantly provision VPS or Cloud servers.
Application templates automate the quick deployment and configuration of applications into virtual servers allowing you to easily extend existing services.
Mass management and task automation simplify the day-to-day administration and increase the number of physical nodes and virtual servers each administrator can manage.
Live migration (Linux only) enables administrators to moves an entire virtual server between physical nodes without disrupting applications or users. Can perform live migration across different geographical locations if this is supported by the network infrastructure.
Reduce maintenance costs by installing host OS and applications such as backup and antivirus on the server, not on each virtual server.
Multi-platform support for both Windows and Linux servers with a set of common management tools.
Stability provided by global support and service to ensure the success of your business. With more than 5000 service provider partners worldwide, Parallels Virtuozzo Container is the virtualization product of choice for mass market hosting providers.
Complete set of management tools The widest set of tools for both Service Providers and customers, making it the best virtualization solution for mass hosting of vps's. Parallels Virtuozzo Containers tools enable management, monitoring, backup, restore, troubleshooting, recovery, provisioning and deployment.